It's Friday readers! The weekend is upon us and it's time for our weekly shoot the shit. You guys may not know this but it's been proven that shoot the shits are a great way to decompress, why? Because you don't need to know anything about the subject, you can use uncensored profanity, insult anyone you wish or just change the subject.
First on the agenda. Kestrel Link owners there is a firmware update, v 1.21 is now available. If you haven't fired up the Kestrel Link Ballistic App do that so you can update you meter.
There's been credible observations made that point to the existence of extra planetary life. Residents of Malibu, California have know for years that alien portals off the Malibu coast have been very active lately. The alien activity may be responsible for anomalies like this…
Whatever is inside Schneiderman may be trying to get into Mark Zuckerberg and taking on similar appearances.
Hawaii (a.k.a The Big Island) has been getting clobbered by volcanic eruptions from mount Kilauea. There are a number of serious threats to residents.
First, is the sulfur dioxide, or SO2, which when combines with water vapor becomes a weak sulfuric acid. That transformation can occur in the lungs and environmentally as acid rain. Ask the Swiss how they felt about acid rain from German industry back in the mid-eighties. In Hawaii, acid rain could damage sugarcane, coffee, pineapple, and marijuana growers.
Lava flows have destroyed 40 homes and the only redeeming property of lava is that it moves very slowly, You can usually walk faster than it moves; however, you don't want to be in its path.
We've heard about a probable huge steam explosion but to wrap your mind around that you need to understand lava rock. The lava rock has internal pockets that can contain water trapped during its formation. Those pockets become hot converting the water to steam. As temperatures continue to increase, steam develops a significant amount of pressure and explodes. When lava rock explodes it's like a fragmentation grenade. Now, imagine that same effect at a crater level. Serious business!
Lava rocks have played a major role in Hawaiian culture, often referred to as Hawaiiana, for example ceremonial activities, like preparing a kalua pig, require the use of lava rocks among other things.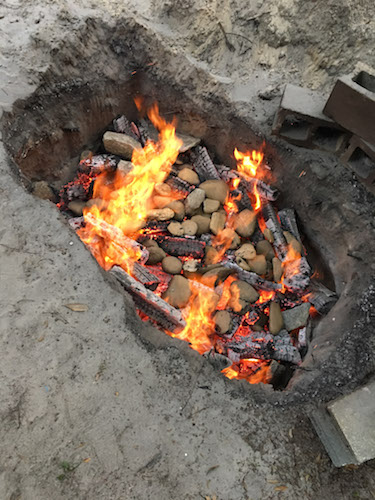 To prepare a kalua pig, you dig a pit, called an imu, about 2-4 feet deep with sloping sides. You then fill the imu with kiawe wood and lava rocks; once that's done, you ignite the wood. As the wood burns down, the lava rocks becomes red hot. Once the wood is consumed, the rocks are removed and place inside the pig's body cavity and under each leg. The pig is then placed in the imu and covered with ti (pronounced tea) and banana leaves. The imu is completely covered with a canvas tarp then sealed with earth or sand such that heat and steam can not escape. A kalua pig is cooked by the heat stored in the rocks and not fire. If during the 6 – 8, or so, hours worth of cooking you hear a loud pop, it means that one of the rocks had a water pocket and the pick is essentially ruined. For that reason lava rocks used for kalua are often handed down over generations. They are a prized possession.
So, please keep the Hawaiian residents in your prayers and lend any assistance you deem appropriate.
Last but certainly not least, Gina Haspel is now Director of the CIA. She makes history as the first woman appointed to head the world's premier intelligence agency. Our congratulations to Director Haspel.
Ok, that's it for this week. Have a great weekend, be safe and spend some quality time with your buds and family.