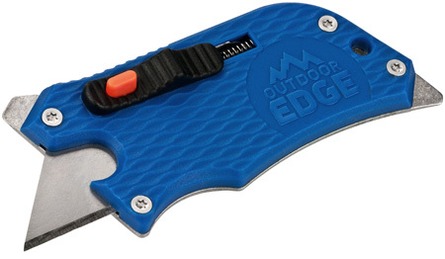 DENVER (Aug. 29, 2018) — Outdoor Edge, the company that combines functional design with the finest materials and hand craftsmanship to create high-quality knives and tools, has redefined the uses of a utility blade with the introduction of its new SlideWinder multitool. The SlideWinder is based around a commonly-available, standard utility blade and packs several extra features not found in traditional utility knives.
The compact SlideWinder incorporates a flat-head screwdriver, a Philips screwdriver, a bottle opener and a pocket clip for easy everyday carry. The utility blade remains housed inside the SlideWinder body until the user presses forward on the slide to deploy and lock the blade in position. The slide's orange release button can be held down in the forward position for tool-less blade changes in seconds, or it can be pressed and released to retract the spring-loaded blade into the body.
The SlideWinder is constructed from durable glass/nylon and stainless steel. Weighing a mere 1.5 oz. with a 3/4-inch blade length, an overall length of 3 1/2 inches and a 5/16-inch body thickness, this multi-use utility knife is a great addition to any pants pocket, toolbox, keychain, glove box, tackle box, kitchen drawer and just about anywhere else a utility knife would come in handy.
The new SlideWinder is available in three colors—black, blue and orange—and has a suggested retail price of $14.50. It is currently available at retailers nationwide or conveniently online at www.outdooredge.com.
Founded in 1988 and headquartered in Denver, Outdoor Edge is a leading designer and manufacturer of knives and tools. Today, Outdoor Edge continues to innovate and develop state-of-the-art products for outdoor enthusiasts, game processors, survivalists, handymen and others who require the very best knives and tools available for leisure, work and everyday-carry needs. The company prides itself in offering a variety of products that undergo extensive field-testing in harsh, rugged environments resulting in durable, long-lasting products that come with a lifetime guarantee. For additional information on Outdoor Edge and its full line of products write to: Outdoor Edge, 5000 Osage Street, Suite 800, Denver, CO 80221; call toll-free 800-477-3343; email moreinfo@outdooredge.com; or visit www.outdooredge.com.