Formerly the Global Identity Summit, FedID brought government and industry partners to Tampa, FL, September 25-27, for three days of speakers, concepts, needs and ideas to address the global challenge of identity management. For the military collecting insurgent biometrics is key to identifying and destroying terror networks, forensic identification is important in times of natural disasters or solving what were once cold cases, providing social benefits requires validating recipients and this is just the tip of the iceberg. More recently, Delta Airlines announced the use of facial recognition at one of the company's terminals at Atlanta's Hartsfield International Airport. DHS employs biometrics in secondary processing of individuals entering the country illegally believed to be criminal elements or fraudulently claiming kinship affiliations.
The challenges to industry and government are improving identity management, doing it faster, cheaper and more accurately while preserving individual privacy. Not an easy task but those were the topics driving this years Federal Identity Forum.
Attendees had the opportunity to attend presentations from several notable industry and government panelists.
Suzette Kent serves as the Federal CIO at the Office of Management and Budget. Ms. Kent is an industry leader of large-scale business transformation using technology, for the world's most complex organizations. She served as a principal at EY and has been a partner at Accenture, consulting president at Carreker Corporation and a Managing Director at JPMorgan.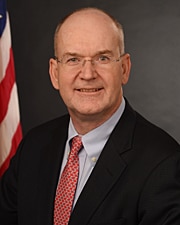 Dr. Don Rucker, the National Coordinator for Health Information Technology, comes to the Office of the National Coordinator for Health IT (ONC) from the Ohio State University where he was Clinical Professor of Emergency Medicine and Biomedical Informatics and Premise Health, a worksite clinic provider, where he served as Chief Medical Officer.
As Deputy Under Secretary, Matthew Travis, supports the National Protection and Programs Directorate (NPPD). Under Secretary Travis in overseeing the Office of Cybersecurity and Communications, the Office of Infrastructure Protection, the Federal Protective Service, the Office of Cyber and Infrastructure Analysis, and the Office of Biometric and Identify Management.
Duane Blackburn, S&T Policy at MITRE
Federal Identity Planning Committee Chair – "Innovation occurs so rapidly nowadays that our old model of relying on a massive annual conference for public-private dialogue and information sharing just won't cut it any longer. We need to be sharing information and insights continuously, talking in-person more frequently, and really focusing on priority issues, strategic conversations, and networking when the entire community gathers together at FedID. These three areas of focus collectively help us meet those needs. We're ready to get started!"
In addition to the many exceptional speakers, the Exposition is a bonhomous event where attendees can interact with leading industry partners and discover the many technologies driving identity management.