There's been a lot of excitement around the recent proliferation of software-defined radios. For those in the industry more familiar with traditional radios, this shift to SDR might be a big change, while for others it might be a welcome sign.
It's important to understand the difference between SDR and traditional or hardware-defined radios. This will provide the knowledge necessary for informed decision-making over whether your operation will benefit more from SDR or HDR.
SDR versus HDR
We most likely know all about the mechanical components used in traditional or HDR. Antennas, dials and knobs, receivers, and the like, that transmit and receive signals via radio waves. They've been around for decades, and they work just fine for many applications. However, in most instances, once these components leave the assembly line, you cannot modify them. What you buy is what you get.
SDR, on the other hand, uses software modules and processors operating on a hardware platform to digitally recreate radio signal transmissions and receptions. This software may run functions that might include modulation and demodulation, frequency hopping and selection, or bandwidth changes, among a host of others depending on its specifications. Developers, service providers, and end-users can then configure and reconfigure the software to change the radio's performance and capabilities so that it meets their specific needs.
So which is better?
There's really no right or wrong answer to this question. Both SDR and HDR have their own benefits.
For instance, due to the longevity and maturation of HDR, many people feel comfortable using this particular type of technology. However, the mechanical and physical components, in addition to any upgrades and replacements, cost money. Compounded by the size of some operations, any upgrades and replacements can be quite costly. There's also a lack of flexibility in the functionality of HDR.
Whereas, SDR provides that flexibility inherently missing from HDR technology. The ease of modifications and reconfigurations on the digital software makes updates and procedural repositioning a breeze.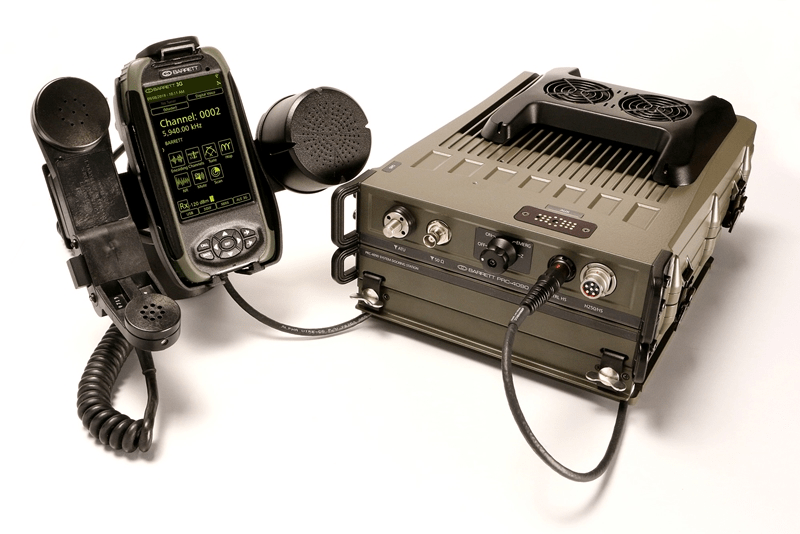 Barrett Communications' new PRC-4090 product range has features that are very similar to mobile phones.
Then again, those users more accustomed to traditional radios might find digital radio jarring and cumbersome. But new SDR products continue to hit the market that can alleviate this very problem. The newly launched PRC-4090, for instance, has an icon-based interface that functions very similarly to a mobile phone, which makes implementation much easier for those reluctant to move away from a traditional radio.
For more information on what Barrett Communications' equipment is best for your needs, get in touch with our team.