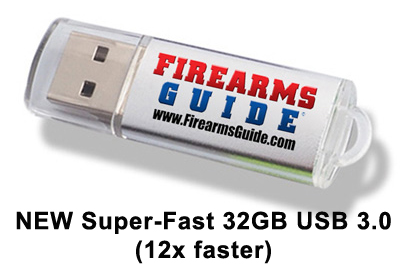 Los Angeles, CA, Impressum Media, Jan 2020 –The 10th edition of the Firearms Guide www.firermsguide.com presents75,000 antique and modern firearms and ammunition types from 1,200 manufacturers and 55 countries!
Easily searchable with 14 search criteria Firearms Guide is largest & fastest gun reference guide that presents antique and modern handguns, shotguns, rifles, military firearms, black powder guns, air guns and ammunition.
The Firearm Guide contains13,000 printableschematics, blueprints, and complete antique gun manuals but also has gun values based off of the 100% – 30% condition ratings for over 75,000 guns.
Firearms Guide is available as online resource at www.FirearmsGuide.comand on superfast USB Flash Drive (for PC & Mac) that you can carry on your keychain. Flash Drive Edition runs without any installation directly from Flash Drive and Online Edition you can access from any device, any location, any time.
The Firearms Guide saves time. For example if you Google search: pistol, 9mm Luger, made in the U.S. you will bring up about 54,000 websites to which you must then plod through. The same search in the Firearms Guide will bring up 375 relevant pistols that are presented with prices, 100% – 30% gun values, tech specs, features and hi-res images. Then you can find and print out schematics and manuals for those pistols.
Price:
$29.95 for Online Edition at FirearmsGuide.com or $59.95 for Online & Flash Drive Combo with free shipping and free updates.
For more information directly contact the firearms guide at www.firearmsguide.com