ONLINE CATALOG FORMS PROGRAMS CONTACT US
PRIMARY ARMS GOVERNMENT PARTNERS WITH GLOCK INC. AS THE NEWEST LAW ENFORCEMENT DISTRIBUTOR FOR TEXAS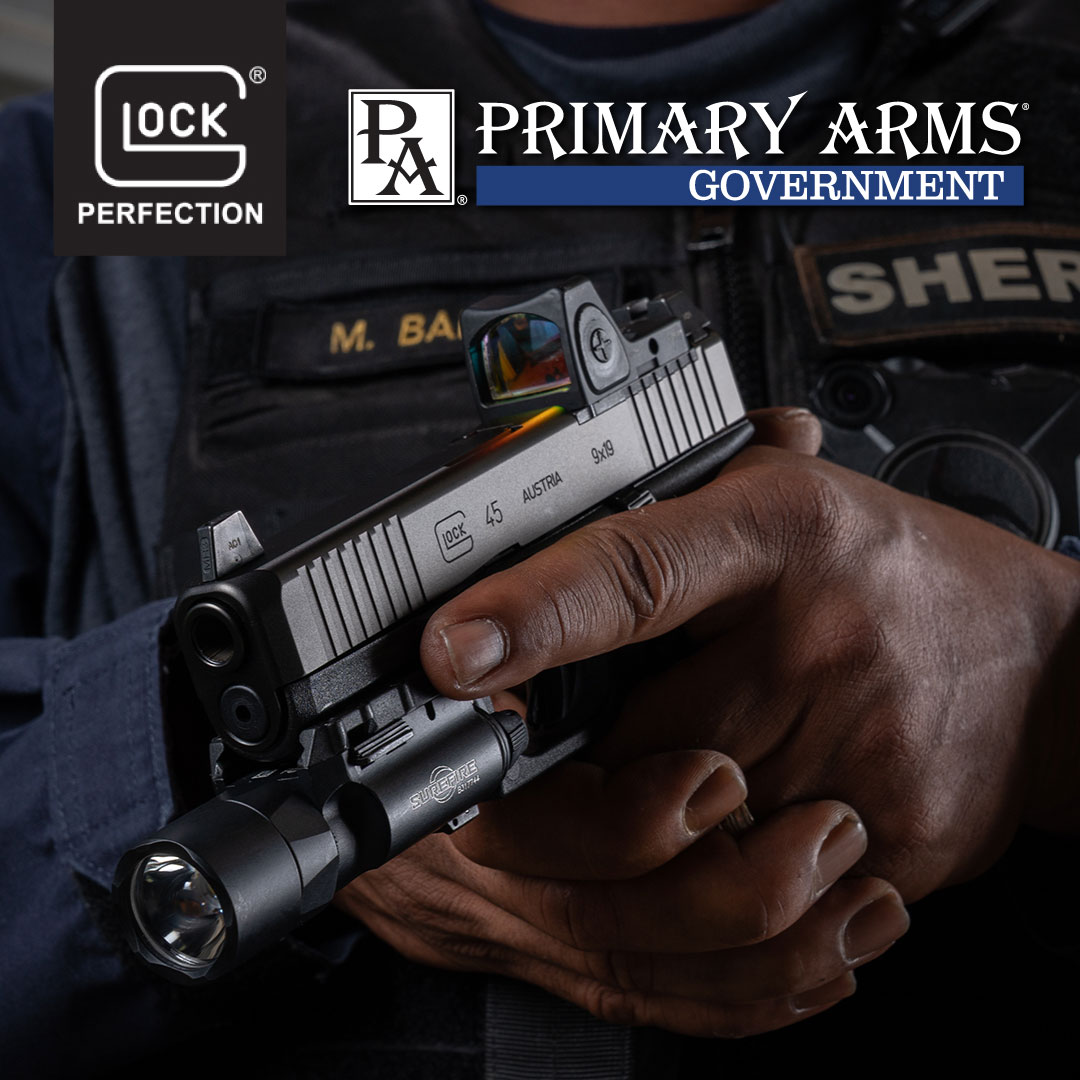 HOUSTON, TEXAS – Primary Arms Government Division is proud to announce that it will be acting as the newest GLOCK Law Enforcement Distributor for the state of Texas. With this partnership, Primary Arms Government will be able to support Law Enforcement officials and First Responders with a full suite of GLOCK products and services, including Departmental Testing & Evaluation Programs, Trade-Ins, the GLOCK Blue Label Program, and agency procurement.
GLOCK pistols are the most durable and reliable sidearms for Law Enforcement Officers. As an official GLOCK Law Enforcement Distributor, Primary Arms will be able to assist our Texas Law Enforcement partners with a variety of services while offering a wider assortment of GLOCK products and accessories. With minimum lead times, procurement officers can expect a streamlined process. In addition, Primary Arms staff will be trained as GLOCK Armorers, providing our Texas Law Enforcement partners with instant access to critical information. Texas Officers and First Responders will also be able to make private Blue Label purchases through Primary Arms directly.
"This is a great day for GLOCK Inc. and Primary Arms LLC. We are now better equipped to serve our First Responders with a wider array and sought after, high quality equipment needed by these communities," said Ozge Cumberland, Primary Arms Vice President. "We are honored to stand side by side with GLOCK Inc."
With Texas populations continuing to grow at an unprecedented rate, the need for new police equipment and sidearms is certain to follow. By partnering with GLOCK Inc, Primary Arms aims to continue to be the top choice for departments seeking to update or expand their equipment resources, all while offering exceptional service and support.
About Primary Arms Government
With 12 years of manufacturing, retailing, and wholesaling experience, Primary Arms opened its Government division in 2019, supporting professionals with access to over 400 top brands across 150+ product categories. With same-day shipping before 4pm CST and 24-hour quote response, Primary Arms offers industry-leading service with no minimum order quantity. In addition, Primary Arms provides its partners a full suite of complimentary amenities, including demo days, T&E opportunities, a full trade-in program, and technical product support. Primary Arms Government is also the home of the patented ACSS reticle, available in a variety of configurations with Primary Arms' duty-proven optics.
For more information on Primary Arms Government, visit the company website or contact:
Major Mathis
US Law Enforcement Sales Manager
mmathis@primaryarms.com