PRIMARY ARMS OPTICS' ACSS® VULCAN® RETICLE
SCORES A SILVER RATING WITH THE NTOA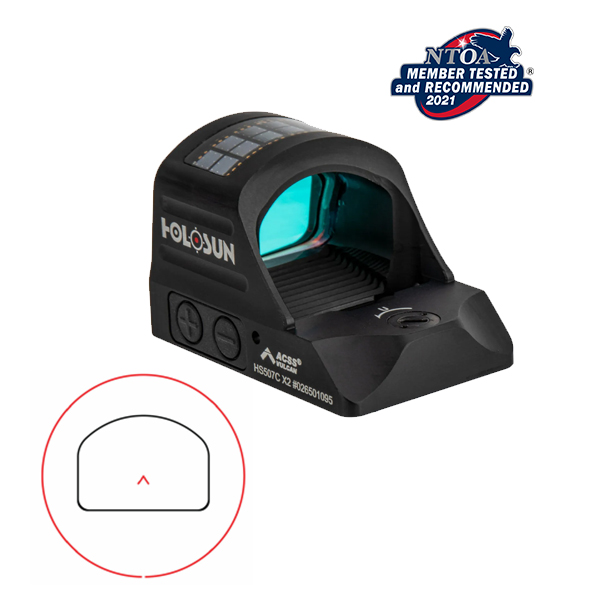 HOUSTON, TEXAS – Primary Arms Optics is proud to announce that their new co-branded Holosun HS507C-X2 with ACSS Vulcan Reticle scored a silver rating following extensive testing with the National Tactical Officers Association (NTOA).
The NTOA is one of America's preeminent voices for Law Enforcement products and equipment, leveraging their network of expert evaluators with real-world trials to evaluate new products. The NTOA's tests include weeks of practical assessment, concluding in a final score that grades products according to at least 6 of 13 major evaluating criteria. For optics, these criteria include Design, Performance, Ease of Use, Size, Quality, Durability, Storage, Versatility, Convenience, Application, Comfort, Accuracy, and Cleaning & Maintenance. To pass, the product must average at least a 3 across all criteria. Products that perform exceptionally well can earn additional recognition rewards with a 'Silver' rating with a 4-4.49 average out of 5.
Recently, Primary Arms Optics submitted their new co-branded Holosun HS507C-X2 with ACSS Vulcan reticle pistol sight for the NTOA's evaluation. Following weeks of intensive trials, the NTOA released their findings and awarded the optic the coveted 'Silver' rating with a score of 4.36. The testing officers noted the optic's speed in target acquisition, as well as its ease of use and durability. One evaluator noted that the optic's exceptional performance had earned it a spot on their department's approved RDS optic list—and that they were going to use it on loaner pistols for their tactical training courses.
In response to the announcement, Primary Arms Optics expressed their gratitude for the positive evaluation. "Primary Arms developed the ACSS Vulcan reticle for the purpose of uniquely providing unprecedented agility and precision for fast target engagement," said Terry Mears, Director of Product Marketing at Primary Arms Optics. "The reception for the Vulcan reticle has been strong and the Silver Rating from NTOA supports our mission to provide the professional community with such an innovation."
To see all Primary Arms Optics recommended by the NTOA, visit https://www.primaryarms.com/ntoa.
Primary Arms Optics
Founded in 2008, Primary Arms Optics® is a leading innovator in tactical optics, offering a comprehensive selection of rifle scopes, prism scopes, red dot sights, optic mounts, and accessories. Their Advanced Combined Sighting System (ACSS®) is a high-performance reticle solution to the challenges of modern marksmanship, distilling complex mathematics into intuitive holdovers that enhance your speed and precision. Each ACSS reticle is specially designed to outperform in real-world applications, incorporating a mix of tools to deliver instant firing solutions. These tools may include ballistic drop compensation, auto-ranging stadia, wind holds, moving target leads, or an infinitely-precise center chevron. Primary Arms Optics produces several tiers of products to meet the needs of any budget. The premier PLx® optics line prioritizes clarity and craftsmanship with first-class materials. The mid-tier GLx optics incorporate premium technologies with approachable pricing, while the popular SLx® optics offer both proven reliability and value. Every Primary Arms Optics product is hand-inspected at their Houston-based headquarters, and all their products come with a Primary Arms lifetime warranty.
For more information on Primary Arms, visit the company website at www.primaryarms.com