Replace your current MDT SRS (Skeleton RIfle Stock) cheek piece with the MDT Elite Cheek Piece featuring a more narrow profile cheek rest for better positioning when shooting weak side. This Elite Cheek Piece also comes with a 1/16″ neoprene foam pad on the surface for added comfort.
ELITE CHEEK PIECE | SRS STANDARD CHEEK PIECE
COMPATIBLE WITH THE
SAVAGE STEALTH
"Installation took me 5 min to fit it onto the chassis . Adjustable in every way and won't get lose with the addition lock screws . Once again great product from MDT ."
LUCIANO G.
CNC machined from 6061-T6 aircraft grade aluminum complete with a protective Cerakote finishing available in 8 different colors.
8 COLOR OPTIONS
SRS-Fixed and SRS-Lite available in Black and FDE.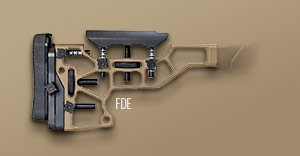 CUSTOMIZABLE
Customize your buttstock with multiple accessories. All buttstocks come with multiple QD points so you can use your optimal sling setup.
IMPRESSIVE QUALITY!
"I chose the Elite version with the additional guide rod for added stability. I attached the bag rider and butstock weight. The fit was perfect and it looks fantastic on my ESS chassis. Highly recommended!"
RICHARD T.
XTN INTERFACE
SRS-X Elite | SRS-X | SRS-XF
The XTN interface integrates seamlessly with the MDT ACC and MDT ESS Chassis Systems making room for a built in thumb shelf. This will improve your experience and consistency behind the rifle allowing you to focus on the shot, ultimately improving your precision.
AR FIXED INTERFACE
SRS-Fixed | SRS-Lite
The AR Fixed interface allows you to use the buttstock with any fixed style rifle or chassis, including the MDT TAC21 GEN2 and MDT LSS-XL GEN2 Chassis Systems.

FLAWLESS DESIGN
"Fits well, design flawless. It's true, accuracy significantly improved."
JAMES J.
RECENT VIDEO

Copyright © 2021 MDT – Modular Driven Technologies LP.
MDT 7949 Venture Pl Unit 1 Chilliwack, BC V2R0K2