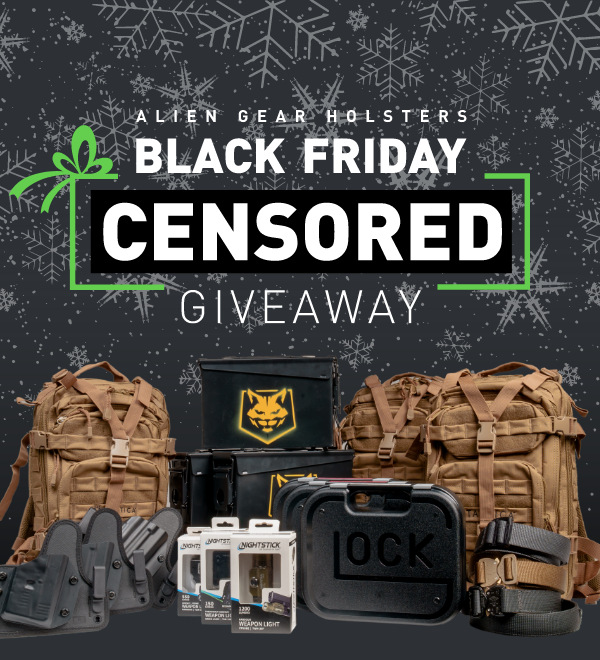 Everyone loves a Black Friday holiday deal but who wants to get trampled? With the Alien Gear Black Friday [CENSORED] giveaway, you can get a great deal from the comfort of your keyboard. This Black Friday, Alien Gear Holsters partnered with Nightstick to giveaway 3 prize packages worth over $1,000 each!
Simply purchase any qualifying Alien Gear product and be automatically entered to win or simply visit aliengearholsters.com to enter to win!
We will be giving away one prize package per day from Black Friday, Small Business Saturday and Cyber Monday. Winners will be selected at random and announced the following morning.
PRIZE PACKAGES
FRIDAY :: Glock17 gen 5 with Nightstick Light TWM-30F PLUS
Warcat: Ammo can, shirt, stickers, patch
Bigfoot: Tactical EDC Belt
AGH: 3.5 IWB
Tactica: MOLLE Backpack
SATURDAY :: Glock 19 gen 5 with Nightstick Light TCM-550XLS PLUS
Bigfoot: Tactical EDC Belt
Warcat: Ammo can, shirt, stickers, patch
AGH: 3.5 IWB
Tactica: MOLLE Backpack
MONDAY :: Glock 43x with Nightstick Light TSM-11G PLUS
Bigfoot: Tactical EDC Belt
Warcat: Ammo can, shirt, stickers, patch
AGH: 3.5 IWB
Tactica: MOLLE Backpack
Thank You To Our Partner Nightstick.
Follow Nightstick On Social Media
Alien Gear Holsters 4411 W Riverbend Post Falls, ID 83854