Galco's Shoulder Systems – Ideal for Winter Carry!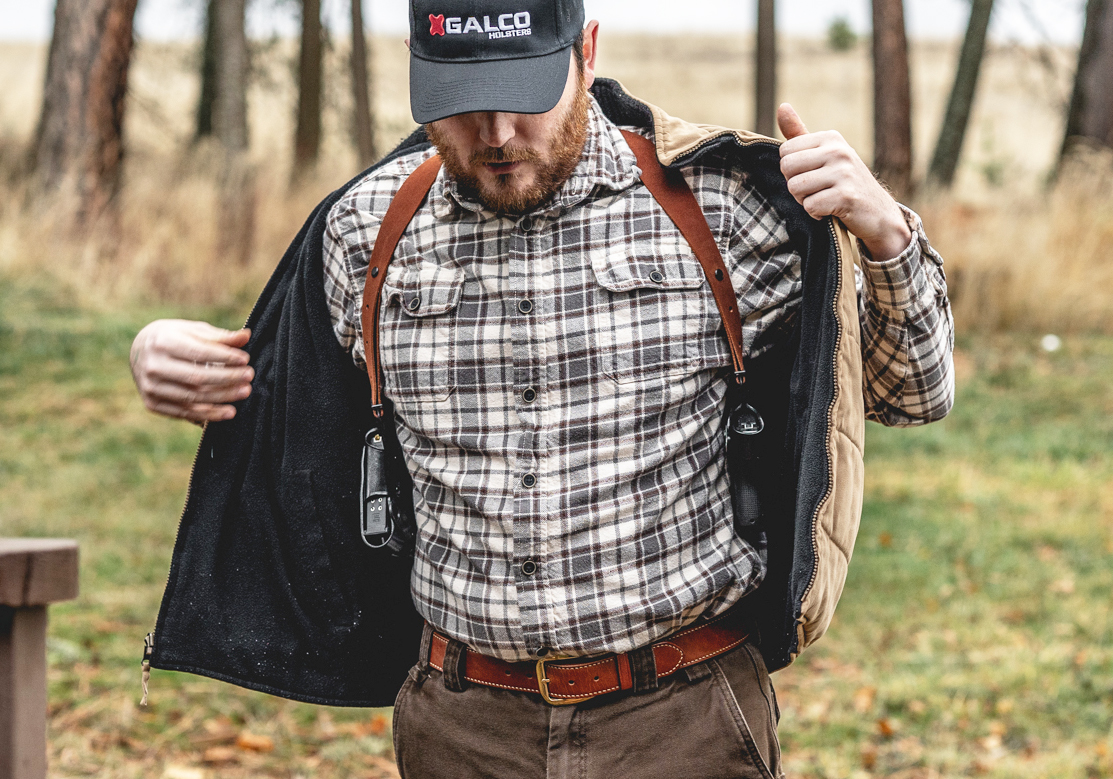 Phoenix, December 2021
One of the oft-overlooked advantages of shoulder systems – especially horizontal shoulder holsters – is how easy they are to access when wearing heavy winter clothing. And while it may not ever really be winter in Miami, Galco's world-renowned Miami Classic™ shoulder holster system carries a handgun in a horizontal position for a very fast draw. It also carries two spare magazines in a vertical orientation, securely held in place with snapped straps. Available for semiautomatic pistols, it's made of premium steerhide in black and tan.
Refined and modernized for the 21st century, Galco's Miami Classic II™ shoulder holster system carries a handgun in a horizontal position for a very fast draw. It also orients its double spare ammo carrier in a horizontal position, allowing a fast and natural grasp when reloading. Made for semiautomatic pistols and DA revolvers, the Miami Classic II is available in right or left hand draw in tan or black (autos only).
One key feature of the Jackass Rig™ is the ability to adjust the holster to a more butt-down and muzzle-up position, which often enables smaller-statured shooters to conceal bigger guns than a strictly horizontal holster. The Jackass Rig's magazine carrier holds two spare magazines in a vertical position. The concealable, medium-width harness is made of comfortable Premium Center Cut Steerhide™. Made for a wide variety of semiautomatic pistols, the Jackass Rig is available in right and left hand draw in black finish.
The Classic Lite 2.0 offers all the comfort and versatility of Galco's professional-grade shoulder systems. Natural-colored Premium Center Cut Steerhide construction allows us to offer a very reasonably priced alternative shoulder system with a proven track record. The Classic Lite 2.0 is available in right and left hand draw for semiautos and DA revolvers.
A key component of Galco's concealment shoulder systems is the spider harness. All four points of the harnesses pivot independently and are connected by our unique clover shaped Flexalon™ swivel back plate, which is a Galco trademark. This results in a perfect fit and lasting comfort for all sizes and shapes.
See all Galco's shoulder holster systems!
Jackass Rig Classic Lite
Miami Classic Miami Classic II
Dealer inquiries:
800-874-2526
dealersales@galcoholsters.com
Galco International, LTD is the designer and manufacturer of Galco Holsters, the premier American-made brand of superb-quality holsters, belts and accessories. Encompassing law enforcement, military, defensive and sporting use, the Galco brand utilizes leather, nylon and Kydex to meet the demands of today's consumers. Women's holster handbags, tactical slings and hunting accessories round out the line. All Galco products are proudly handcrafted in the USA since 1969.


Galco International, 2019 W Quail Avenue, Phoenix, AZ 85027