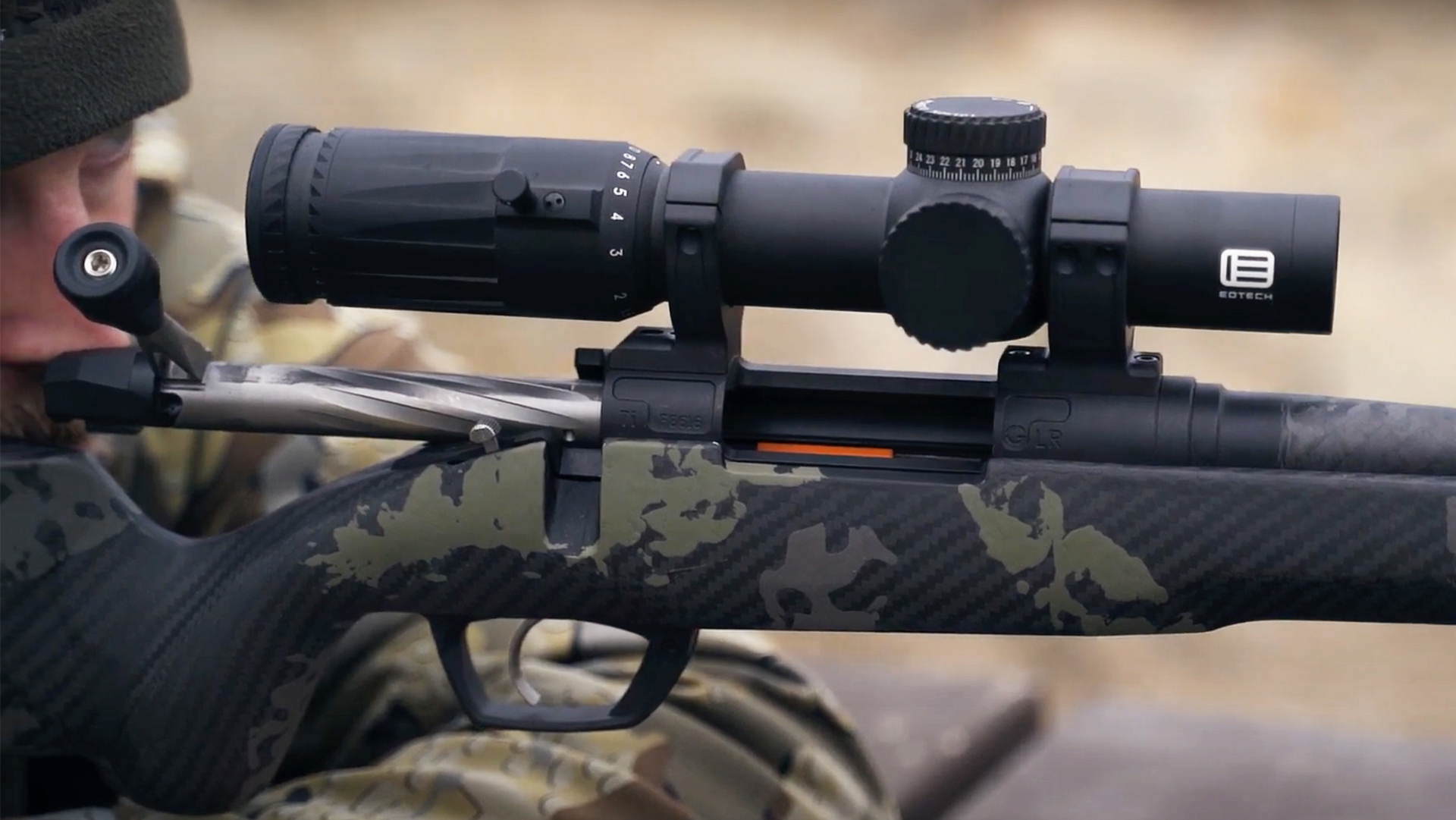 Ann Arbor, MI (December, 19 2021) – The new EOTECH Vudu 1-10x28mm riflescope delivers outstanding performance and durability in all environments while offering First Focal Plane advantages and 1-10x power versatility. First Focal Plane (FFP) scopes provide many benefits, and the Vudu 1-10×28 FFP reticles make full use of this advanced design. The Vudu's wide magnification range and rapid zooming balance shooting speed with precision. When combined with a choice of three modern reticles, the Vudu 1-10x28mm precision riflescope is a clear choice for close- to medium-range targets and everything in between.
The dramatic 1-10x magnification range truly sets this optic apart! At 1x, its wide field of view, generous eye relief and signature EOTECH Speed Ring is the ultimate setup for enhanced situational awareness and rapid shot transitions. At the other end of the spectrum, its 10x magnification and detailed reticle allow precise holdover shots at extended ranges.
With First Focal Plane scopes, the reticle grows as magnification increases. At high power, the reticle is an optical tape measure for estimating distance and precisely aiming holdover shots; at low magnification, the eye focuses on the bold, illuminated EOTECH Speed Ring for snapshots and quick follow-ups. Designed to be simple and intuitive, shooters will understand the versatility of this system with one look through the 1-10x28mm scope.
The Vudu 1-10x28mm riflescope is available with one of three illuminated reticles. The SR-4 uses MOA-based subtension marks for ranging, holdover, and windage corrections at higher powers and the Speed Ring with center red aiming dot for rapid shots at the lower power setting. The SR-5 is an MRAD graduated Christmas-tree style reticle for more precise windage and elevation holds. The LE-5 is similar to the SR-5 but features a familiar crosshair inside the Speed Ring rather than a single dot. On the left side of the scope, a push-button reticle illumination system provides intuitive controls; one button for on/off, and the others control brightness settings.
Depending on the reticle, scope turrets are calibrated and adjustable in either 0.25 MOA or 0.1 MIL increments, offering precision and fast dial adjustments. After zeroing, its re-indexing feature sets the turret dial scale to zero, allowing for quick resets in the field without the need to remember a numeric turret location. The elevation turret offers a simple push-pull locking system and the windage is capped, both to prevent inadvertent changes.
Like all Vudu riflescopes, the 1-10x28mm riflescope uses a rigid aircraft-grade aluminum tube with a hard-anodized finish. The scope is shock-, water- and fog-resistant, and features the EOTECH Vudu Precision Riflescope No BS Warranty.
EOTECH Vudu 1-10x28mm Riflescope Specifications
Magnification: 1-10x
Focal Plane: First
Tube Diameter: 34mm
Objective Lens: 28mm
Illuminated: Yes
Battery Type: CR2032
Overall Length: 10.63" (270mm)
Weight: 21.3 oz (603g)
Eye Relief: 1x: 3.27–3.90" (83-99mm) 10x: 3.35-3.62" (85-92mm)
Field-Of-View @ 100 Yards: 1x: 116.6 ft (35.5m) 10x: 11.7 ft (3.6m)
EOTECH Vudu 1-10x28mm Riflescope Features
Push/Pull locking elevation turrets
Capped windage turret
Illuminated
Anti-reflective lens coating
Waterproof, Shockproof, fog-resistant
Included in the Box
EOTECH Vudu 1-10x28mm Riflescope
1 x CR2032 Battery
Throw Lever
Product User Manual
Reticle Manual