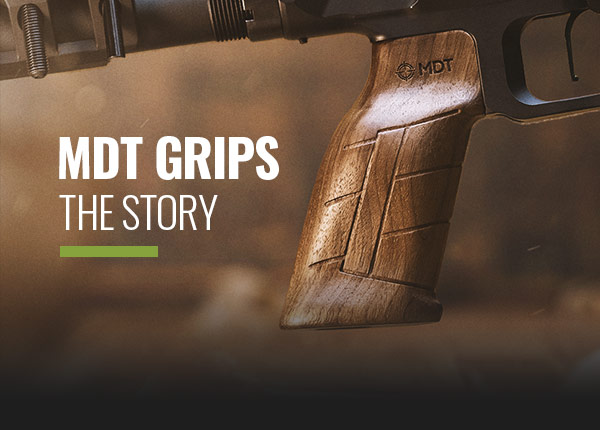 Your needs have always been the driving force here at MDT. Initially, our emphasis was on chassis systems; however, after creating several unique designs, our engineers developed a suite of non-chassis products like scope bases, magazines, scope rings, rails, and grips.
Why grips? Initially, we offered the Hogue grip, which is a good piece of kit. Still, the desire to make grips tailored to precision rifle shooting motivated our engineers to develop and build something in-house with a clear focus on precision. Not only would developing our own grip allow us to control the supply chain and get products to you quicker, but it would also allow us to upgrade our models and adapt based on your feedback.
So what is the next chapter in The MDT Grip story? We recently launched wood, and carbon fiber versions of our MDT Pistol Grip Elite (seen below). And we are looking at new materials for lighter and more robust products. Our study of human anatomy and morphology is never-ending, and we will have a lot more to offer in the coming years, stay tuned!
NEW MDT PISTOL GRIPS
3 UNIQUE GRIP TEXTURES
OTHER GRIP OPTIONS
10° + 10MM OF ADJUSTMENT
10MM OF ADJUSTMENT
RECENT VIDEO
SUGGESTED READ
FROM THE MDT BLOG
UPGRADING THE BERGARA B-14

Copyright © 2021 MDT – Modular Driven Technologies LP.
MDT 7949 Venture Pl Unit 1 Chilliwack, BC V2R0K2