PRIMARY ARMS® OPTICS UNVEILS UPCOMING OPTICS IN 'DISCOVERY 2022' REVEAL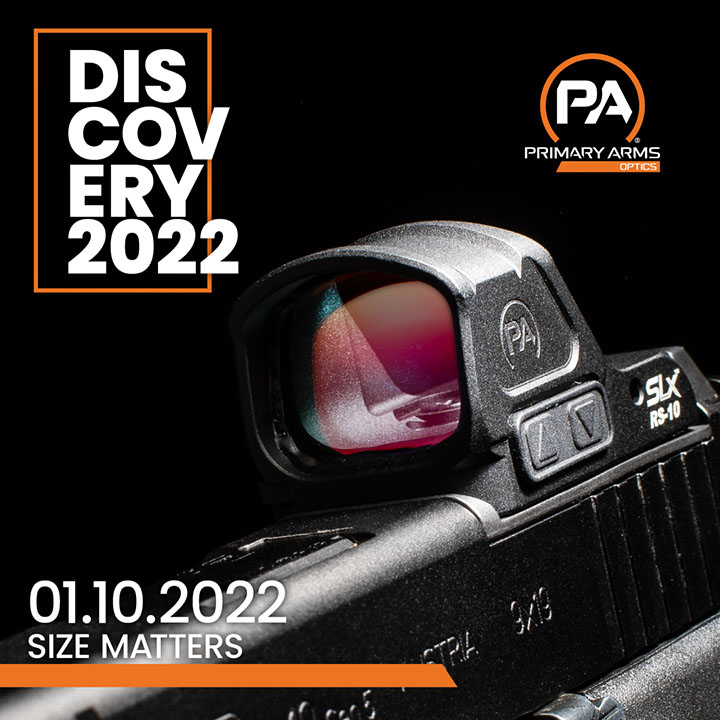 HOUSTON, TEXAS – Primary Arms Optics has released a list of upcoming optics for the new year, including all upcoming products in a reveal titled Discovery 2022.
Discovery 2022 opens with a letter from Primary Arms' CEO and Founder, Marshall Lerner, who describes the company's meteoric growth over the past years. He announces a new 50,000 sq ft facility, which features a state-of-the-art clean room and expanded capacity for new engineers and quality assurance teams. The letter then describes the upcoming optics and reticles for 2022, including new releases for the PLx®, SLx®, and co-branded Holosun product lines. These new optics cover all price points and applications, ranging from practical pistol sights and tactical rifle scopes to affordable, high-performance hunting optics.
No matter your budget or preference, Primary Arms Optics has new products in 2022 that are certain to excite. These releases include…
– PLx 1-8x24mm FFP Compact Rifle Scope

– PLx 30mm and 34mm US-Made Rifle Scope Mounts

– SLx 1-10x28mm SFP Rifle Scope

– SLx 3x Micro Magnifier and ACSS® Pegasus™ Ranging Reticle

– SLx 'FTSM' Flip to Side Mount

– SLx 3-9x and 4-12x Lightweight Hunting Scopes

– SLx 'RS-10' Mini Reflex with 3MOA Dot Reticle

– Co-Branded Holosun HE509-RD with ACSS Vulcan® Reticle
A full list of specifications, features, and technologies is available through the Discovery 2022 web page.
"This year, Primary Arms Optics is doubling down on innovation, incorporating new technologies and designs at an unprecedented value," says Stephen Morgan, Primary Arms Optics' Director of Product Marketing. "Whether you're a professional, an enthusiast, or a brand-new marksman, Primary Arms Optics is ready to surprise you with the perfect optic for your next rifle, pistol, or shotgun."
For more information on Primary Arms Optics or Discovery 2022, follow Primary Arms on social media channels.
Primary Arms Optics
Founded in 2008, Primary Arms Optics® is a leading innovator in tactical optics, offering a comprehensive selection of rifle scopes, prism scopes, red dot sights, optic mounts, and accessories. Their Advanced Combined Sighting System (ACSS®) is a high-performance reticle solution to the challenges of modern marksmanship, distilling complex mathematics into intuitive holdovers that enhance your speed and precision. Each ACSS reticle is specially designed to outperform in real-world applications, incorporating a mix of tools to deliver instant firing solutions. These tools may include ballistic drop compensation, auto-ranging stadia, wind holds, moving target leads, or an infinitely-precise center chevron. Primary Arms Optics produces several tiers of products to meet the needs of any budget. The premier PLx® optics line prioritizes clarity and craftsmanship with first-class materials. The mid-tier GLx optics incorporate premium technologies with approachable pricing, while the popular SLx® optics offer both proven reliability and value. Every Primary Arms Optics product is hand-inspected at their Houston-based headquarters, and all their products come with a Primary Arms lifetime warranty.
For more information on Primary Arms, visit the company website at www.primaryarms.com