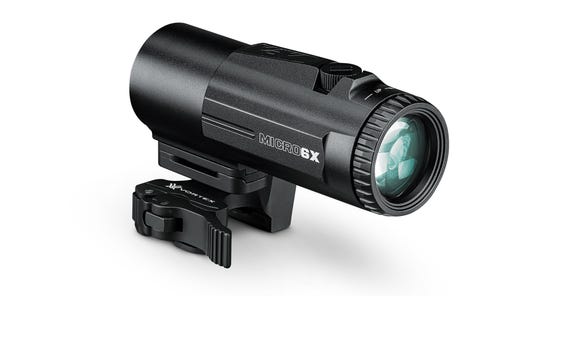 THE NEW MICRO6X MAGNIFIER FROM VORTEX® TAKES YOUR RED DOT FARTHER.
BARNEVELD, Wis. – With a red dot, your carbine is already a versatile weapon, giving you the confidence you need to engage close-range targets. But now, there's a simple way to stretch your effective range, with the new Micro6x Magnifier from Vortex®.
In addition to being the most compact 6x magnifier on the market, the Micro6x Magnifier provides an easy on, easy off flip mount, and everything you need to mount up right out of the box. You can take your pick of three mounting heights, from absolute co-witness, lower 1/3 co-witness, and 1.93 inches with included riser, and the adjustable flip mount easily allows for left- or right-handed use.
The camlock system engages and disengages with direct pressure, allowing you to raise and lower the magnifier quickly and easily, and the system is built to stand up to hard use in the field. Crisp optics round out an all-new way to hit harder and farther than you ever thought possible.
Want to learn more about magnified optics on tactical carbines? Check out our blog, "Making sense of magnified optics on tactical carbines."
MSRP:
$549.99 – Micro6x Magnifier
For a list of specifications, frequently asked questions and high-resolution images, check out the Vortex New Product Portal.
About Vortex Optics: American owned, veteran-owned, Wisconsin-based Vortex Optics designs, engineers, produces, and distributes a complete line of premium sport optics, accessories, and apparel. Dedicated to providing unrivaled customer service and exceptional quality, Vortex® backs its products with the unconditional, transferrable, lifetime VIP Warranty. Built on over 30 years of experience in the optics industry, Vortex® has emerged as a leader in the optics market.