PRIMARY ARMS® OPTICS OPENS PRE-ORDERS FOR NEW
SLx® 3x MICRO MAGNIFIER WITH ACSS® PEGASUS™ RANGING RETICLE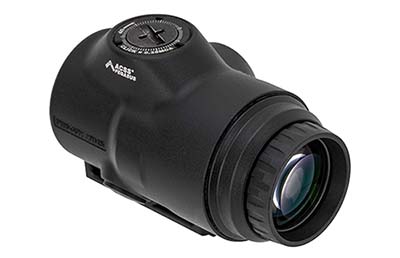 HOUSTON, TEXAS – Primary Arms Optics has opened pre-orders for their new SLx 3x Micro Magnifier as well as the new Flip-to-Side magnifier mount. The standard SLx 3x Micro Magnifier is expected to ship in late January, while the ACSS Pegasus variant and SLx Flip-to-Side Mount are both expected in mid-February.
The SLx 3x Micro Magnifier is an exciting approach at optical magnifiers, combining high clarity 3x magnification with a miniaturized body and a built-in ranging reticle. This new optic is part of Primary Arms' SLx line. SLx optics built Primary Arms Optics' reputation for innovation, reliability, and value. All SLx optics undergo rigorous field-testing during development to best serve users in any environment.
Weighing only 5.3 oz, the SLx 3x Micro Magnifier is a miniaturized, lightweight magnifier that extends the effective range of a red dot sight or 1x prism scope. The SLx 3x Micro Magnifier features an innovative 'micro-sized' design that reduces its footprint compared to traditional magnifiers. This makes it ideal for close-quarters carbines, where agility, ergonomics, and handling speed are paramount.
The SLx 3x Micro Magnifier is also the first magnifier with an option for ACSS Pegasus, a specialized ranging tool designed specifically for optic magnifiers. While most magnifiers simply magnify the primary optic's reticle, the ACSS Pegasus adds an auto ranging ladder to the system, allowing marksmen to range and engage their targets more effectively. The low-profile offset design integrates seamlessly with your optic's existing reticle, and the intuitive layout makes it easy to derive precise range estimates in seconds.
"The SLx 3x Micro Magnifier is an evolution of the traditional optic magnifier, combining new compact optics technology with a built-in ACSS Pegasus ranging system," says Stephen Morgan, Director of Product Marketing at Primary Arms Optics. "Combined, the SLx 3x Micro Magnifier and ACSS Pegasus offer unprecedented precision to supplement high-speed, close-quarters optics."
For those who do not have a mount yet, Primary Arms Optics has also released a new Flip-to-Side mount, which perfectly fits the Micro Magnifier. This flip-to-side mount places the center of the magnifier at 1.41 inches above the top of the 1913 Picatinny rail and includes spacers for 1.535" and 1.64". Made of 6061-T6 Aluminum for maximum durability, the mount features steel alloy cross bolts with up to 55 in-lbs of torque.
For more information on Primary Arms Optics, follow Primary Arms on social media.
About Primary Arms Optics
Founded in 2008, Primary Arms® Optics is a leading innovator in tactical optics, offering a comprehensive selection of rifle scopes, prism scopes, red dot sights, optic mounts, and accessories. Their Advanced Combined Sighting System (ACSS®) is a high-performance reticle solution to the challenges of modern marksmanship, distilling complex mathematics into intuitive holdovers that enhance your speed and precision. Each ACSS reticle is specially designed to outperform in real-world applications, incorporating a mix of tools to deliver instant firing solutions. These tools may include ballistic drop compensation, auto-ranging stadia, wind holds, moving target leads, or an infinitely-precise center chevron. Primary Arms Optics produces several tiers of products to meet the needs of any budget. The premier PLx® optics line prioritizes clarity and craftsmanship with first-class materials. The mid-tier GLx optics incorporate premium technologies with approachable pricing, while the popular SLx® optics offer both proven reliability and value. Every Primary Arms Optics product is hand-inspected at their Houston-based headquarters, and all their products come with a Primary Arms lifetime warranty.
For more information on Primary Arms, visit the company website at www.primaryarms.com