Brands AR-15 AR-308 AK-47 Scopes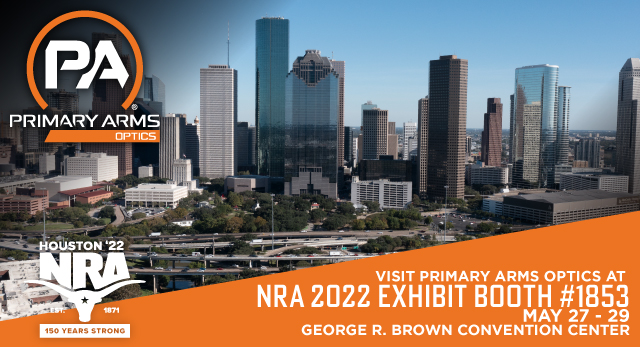 PRIMARY ARMS OPTICS TO SHOWCASE NEW 2022 OPTICS AT THIS YEAR'S NRA ANNUAL MEETINGS AND EXHIBITS
This year, the annual NRA Show will be hosted at the George R. Brown Convention Center in Houston, Texas from May 27th to May 29th. Entry is FREE for any NRA member and their immediate family, and you can register online through the NRA website.
You can find us at Booth #1853 and try new optics, meet popular industry personalities, and participate in exciting event giveaways.
For over 14 years, Primary Arms has been Houston's premier optics manufacturer and online gun store, and we're showing our appreciation with exclusive show reveals of all our newest products—plus some that are soon to launch! Expect to see our new PLx® 1-8x24mm FFP Compact Rifle Scope, the GLx® 1-6x24mm FFP Rifle Scope, as well as their full collection of SLx® MicroPrisms and Micro Magnifiers. Attendees can view and operate these new optics, as well as Primary Arms Optics' co-branded Holosun HS507C-X2 and HE509-RD Reflex Sights with ACSS® Vulcan® while they are at the show.
In addition, Primary Arms Optics will be hosting exclusive in-booth giveaways, giving attendees a chance to win valuable show prizes. During the exhibits, attendees will be able to purchase many of Primary Arms Optics' latest releases at the Kenzie's Optics Booth (#1131).
Primary Arms
3219 South Sam Houston Pkwy East, Ste 100
Houston, TX 77047