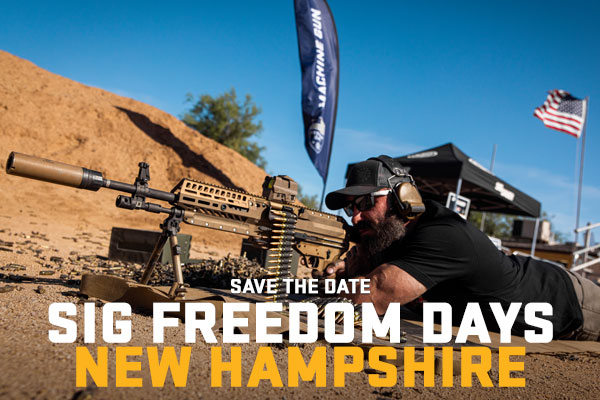 Save the Date for SIG FREEDOM DAYS: New Hampshire
A One-of-a-Kind Range Experience
SIG FREEDOM DAYS is coming to New Hampshire this fall! Be sure to save the date for October 14-15, 2022 at SIG SAUER ACADEMY in Epping, New Hampshire.
Registration will open on June 23, 2022. We will send you a reminder email as the date approaches.
VIDEO: SIG FREEDOM DAYS Highlights from Phoenix, AZ
WATCH THE VIDEO
At SIG FREEDOM DAYS, you will have the opportunity to:
· Get exclusive access to the SIG SAUER Academy grounds, including the new SIG Experience Center
· Shoot nearly 50 new and existing SIG SAUER firearms alongside world-class SIG SAUER Academy Instructors
· Be one of first civilians to shoot the new SIG-LMG (Lightweight Machine Gun)
· Meet Team SIG Shooting Champions Max Michel, Lena Miculek and Daniel Horner
· See stage presentations by pro shooters, industry leaders and personalities
· Connect with sponsors and partners
Location: SIG SAUER Academy, Epping, NH
Dates: Friday, October 14-Saturday, October 15, 2022
Times: 10:00am – 5:00pm
There will be a limited number of tickets available which will give you more time with our instructors. This will also mean short lines, giving you more trigger time on SIG products.
*Must be 12+ to attend SIG FREEDOM DAYS with a parent/guardian. Must be 18+ to handle firearms without parent/guardian supervision. To operate the machine gun, you must be 18+.


FIREARMS • AMMUNITION • ELECTRO-OPTICS • SUPPRESSORS • AIRGUNS • TRAINING