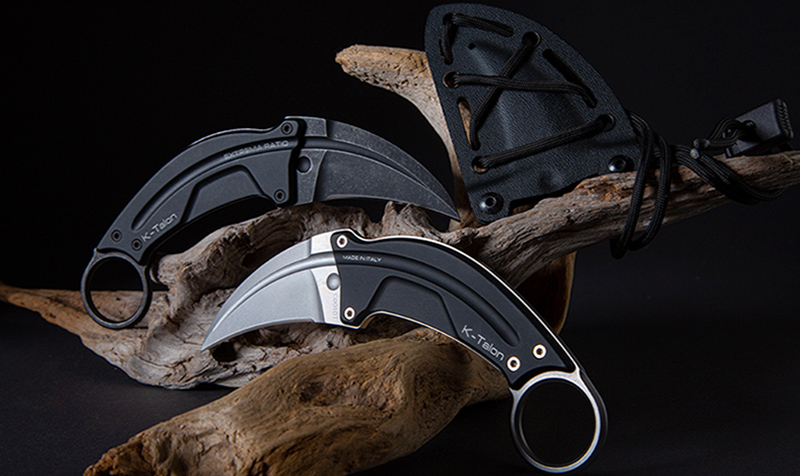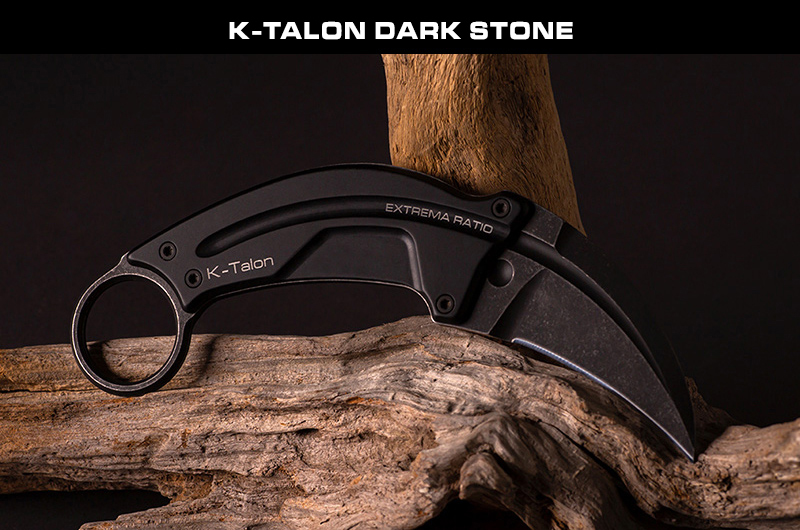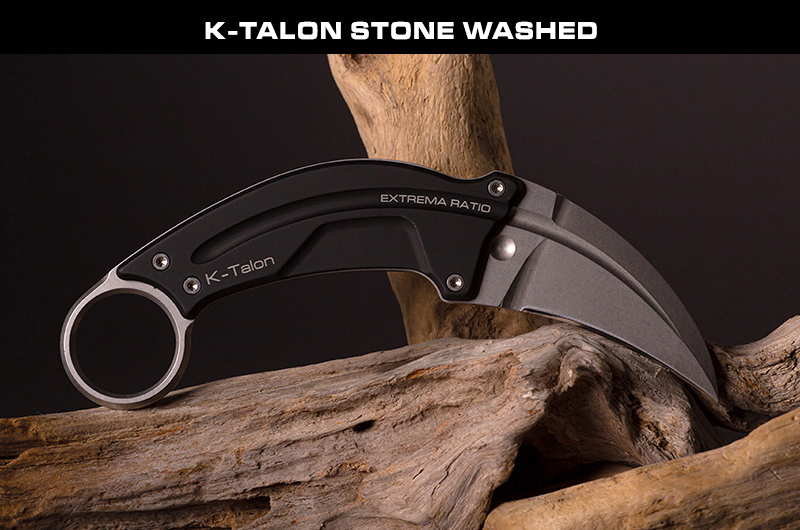 K-Talon is a fixed-blade karambit with a full-tang structure. It has a particularly thin shape with an overall thickness of 10 mm. The curved and hooked blade was inspired by the shape of a talon.
It is designed to make clear and deep cuts as well as to hook, seize and/or tear. The ring in the back is built to gain a safe and firm grip in every situation. This way the knife does not slip and it makes it extremely difficult to disarm and point at the user.
The very thin Kydex sheath has a quick release system and comes with a paracord that allows it to be worn as a neck knife and to be attached to the M.O.L.L.E. system.
It can be also attached to the following optional accessories:
–

ULTICLIP SLIM 3.3

(we suggest at least two), attaching the sheath to a belt as well as pockets, trousers, jackets, shirts and t-shirts.
K-Talon is available in Dark Stone and Stone Washed versions.
TECHNICAL SPECIFICATIONS:
Type: Karambit
Use: Tactical
Weight (g): 130
Weight (oz): 4,58
Blade Length (mm): 70
Blade Length (in): 2,75
Overall Length (mm): 175
Overall Length (in): 6,89
Blade Thickness (mm): 4
Blade Thickness (in): 0,15
Blade Material: Böhler N690 (58HRC) Steel
Blade Finishing (K-Talon Dark Stone): Dark Stone
Blade Finishing (K-Talon Stone Washed): Stone Washed
Main Grid: Flat
Handle Material: Anticorodal Anodized Aluminum
Discover the new K-Talon on extremaratio.com!
Extrema Ratio S.R.L.
Via Traversa delle Ripalte 72/74/76/78 – 59100 PRATO – Italy
Tel. +39 0574 584639 – Fax. +39 0574 581312
info@extremaratio.com – www.extremaratio.com