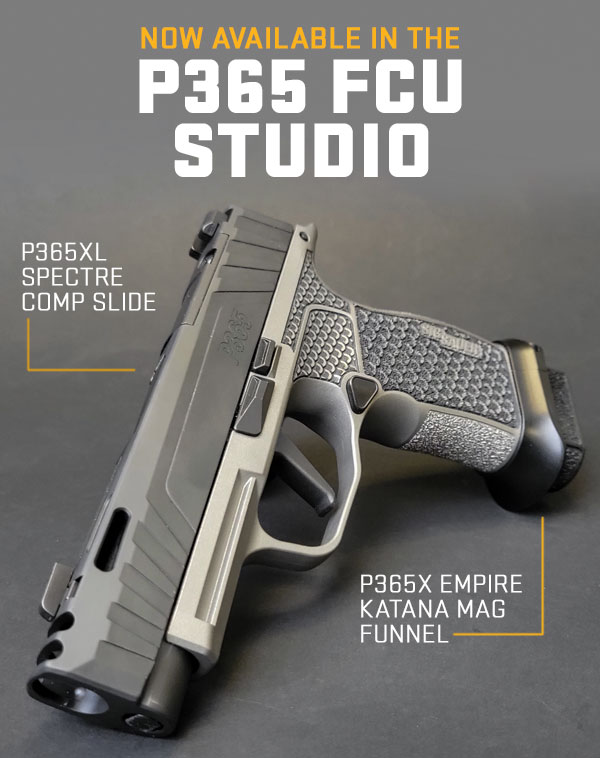 Now Available: P365XL Spectre Comp Slide Assemblies
Now available for the first time on its own, the P365XL Spectre Comp Slide Assembly brings an exciting new technology to America's #1 selling micro-compact pistol with a new Custom Works designed slide that features an integrated compensator. Not only does the compensator reduce muzzle flip by nearly 30%, but it also can never come loose or cause function issues, because of its uniquely integrated construction with the slide.
The slide also comes with XRAY3 Day/Night sights, is optic ready out of the box and is compatible with all P365XL holsters.
Available in Two Colors: Coyote Brown and Black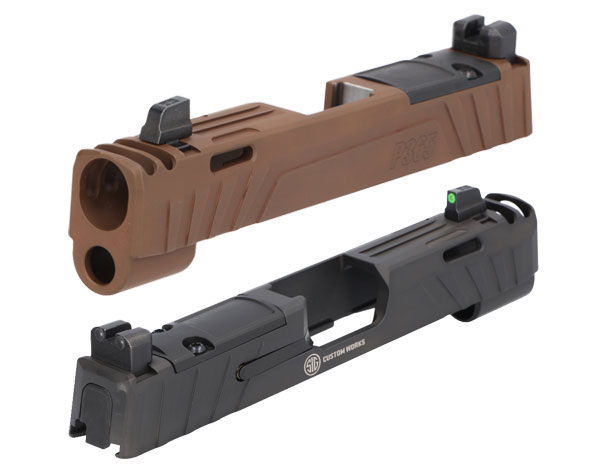 Slides are compatible with all P365 9mm models and configurations with the following accompanying items: 3.1″ barrel and a P365XL recoil spring assembly. Barrels and recoil spring assemblies are sold separately.
OR BUILD YOUR CUSTOM P365XL NOW IN THE P365 FCU STUDIO
Also Just Added to the P365 FCU Studio:
P365X Empire Katana Magazine Funnels
These new mag funnels aid in reloading and grip position by adding .5″ to the overall length and .28″ to the width of the grip. Works with P365X or P365XL.
Available in Tungsten Gray, Black and Copper.

LEARN MORE AND SHOP NOW IN THE P365 FCU STUDIO
VIDEO: P365 Custom Works Fire Control Unit (FCU) with Custom Works Studio
SIG SAUER Director of Product Management Phil Strader walks you through the process of using your FCU to build your own custom P365 using the P365 FCU Studio.

FIREARMS • AMMUNITION • ELECTRO-OPTICS • SUPPRESSORS • AIRGUNS • TRAINING