Galco's Front Pocket Horsehide Holster
for Smith & Wesson M&P Shield!
Phoenix, August 2022
Now available for the Smith & Wesson M&P Shield!
Galco's Front Pocket Horsehide Holster offers unique concealed carry advantages. Not only is the handgun completely covered and concealed, but the gun carrier can casually place a hand on the holstered/pocketed pistol if a nonspecific threat materializes – and the fastest draw is to have the gun already in hand.
Galco's pocket holsters greatly minimize shifting of the handgun in the pocket, allowing for a fast and sure grip acquisition when drawing. Pocket holsters cover the trigger to prevent entanglement with foreign objects and add a safety barrier between fingers and trigger when acquiring a firing grip. They conceals the shape of the handgun so its outline doesn't print through the pocket, and allow one-handed release of the handgun from both pocket and holster.
The Front Pocket Horsehide holster's dual hook shapes – at the base of the handgun's trigger guard and at the top rear of the slide – are designed to catch on the pocket independently, based on user preference, pocket shape and draw technique.
The Front Pocket Holster is ambidextrous and constructed of premium horsehide.
See all of Galco's Pocket Holsters!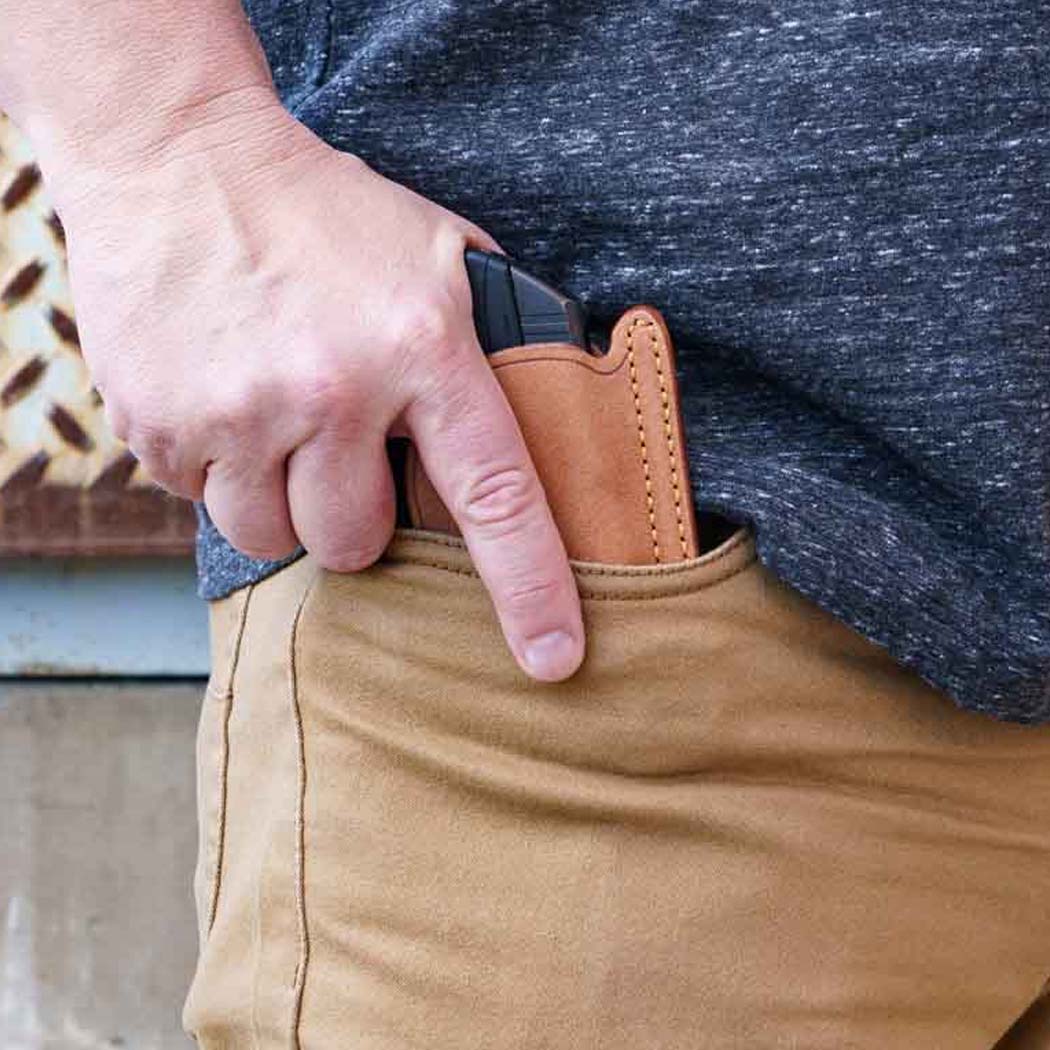 (Shown with Ruger LCP)
Dealer inquiries:
800-874-2526
dealersales@galcoholsters.com
Galco International, LTD is the designer and manufacturer of Galco Holsters, the premier American-made brand of superb-quality holsters, belts and accessories. Encompassing law enforcement, military, defensive and sporting use, the Galco brand utilizes leather, nylon and Kydex to meet the demands of today's consumers. Women's holster handbags, tactical slings and hunting accessories round out the line. All Galco products are proudly handcrafted in the USA since 1969.


Galco International, 2019 W Quail Avenue, Phoenix, AZ 85027