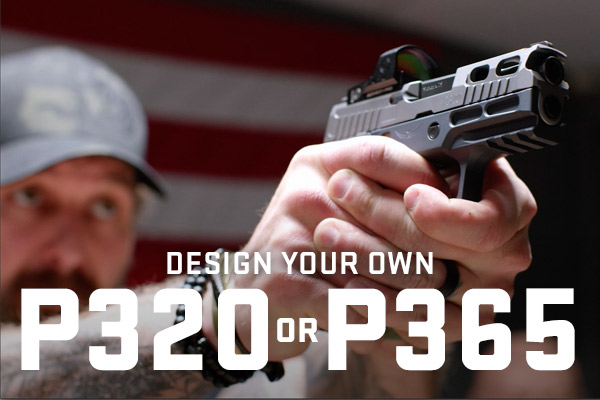 Easily create a custom P320 or P365 from the ground up with the Custom Works Studio.
Starting with one of our innovative Fire Control Units, choose your frame size, slide length, barrel and accessories to create the perfect P320 or P365 just for you. Optimize and personalize your P320 or P365 FCU using the Custom Works Studio, an ever-expanding selection of the latest genuine SIG SAUER parts and accessories designed and built to perform at the highest level.
Choose Your Custom Works Studio Below
P365 FCU STUDIO P320 FCU STUDIO
NEW: P365 Icarus Precision Grip Modules

We have collaborated with Icarus Precision to bring you a limited edition A.C.E. P365XL ELITE Aluminum Grip Module.
Featuring black anodizing and T7075 Aluminum, this custom-created grip module is designed to look good and perform even better. Just drop in your P365X/XL fire control unit and your favorite 3.1″ or 3.7″ slide and you're ready to go.
ADD THESE GRIPMODS TO YOUR P365 FCU BUILD
P320 LOK Grip Panels

Choose from the aggressive GRIDLOK pattern to ensure the firearm does not shift in your hand during operation or the patented Veloce pattern for a good look and great feeling grip. Available in Brass, Orange and Green as well as Standard or Palm Swell sizes.
In the P320 FCU Studio, just select the appropriate grip mod first, then choose from the Grip Panels dropdown menu.
JUST ADDED: Black Brass LOK Grips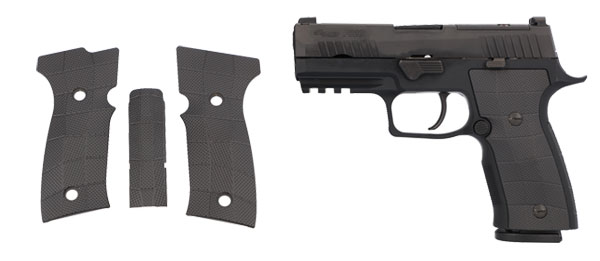 ADD LOK GRIP PANELS TO YOUR P320 FCU BUILD
VIDEO: Knowledge Transfer
SIG SAUER is proud to present Knowledge Transfer, a new short film in partnership with GBRS Group and Ironclad. GBRS Co-founders and best friends DJ Shipley and Cole Fackler give us an inside look at their organization and the principles behind their success. Follow along as the two develop custom P320s using the SIG Custom Works Studio and talk through what creativity and authenticity means to them.
Don't Own a P320 FCU? No Problem! Let our Concierge Service Build Your Custom P320.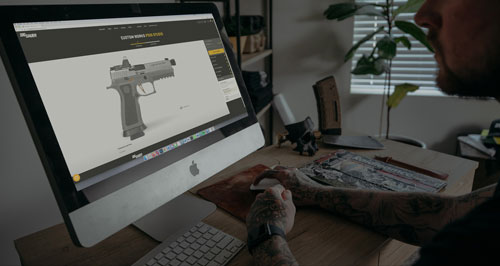 You Design It. We Build It. Direct From the Factory.
The SIG Concierge Service team can now build you a completely custom P320 and ship it directly to your local dealer with the Custom Works Concierge Service. Each pistol is built to your exact specifications, personalized, and shipped directly from the factory.