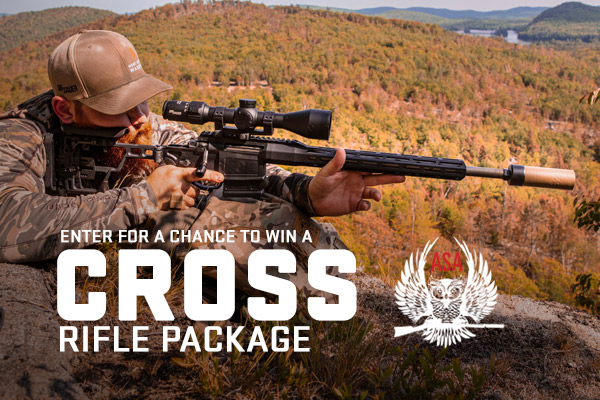 You Could Win a CROSS Rifle Package from the American Suppressor Association.
Now through October 19, the American Suppressor Association is raffling off a complete CROSS rifle package that includes a CROSS bolt-action rifle, SIERRA3BDX riflescope and the SLH762 suppressor valued at $3,909.
CROSS BOLT-ACTION RIFLE

Designed and built from the ground up at the SIG SAUER research and development facilities in New Hampshire with the input of hunters, military snipers and elite long-range shooters, the CROSS rifle was created to meet the demands of both precision long-range shooting and extreme backcountry hunting.
Features & Benefits
Team SIG Pro Shooter Daniel Horner walks you through the features and benefits of this precision hunting bolt-action rifle.
Innovation
Daniel Horner discusses the innovative excellence behind the development of the new CROSS Rifle.
SLX and SLH Suppressors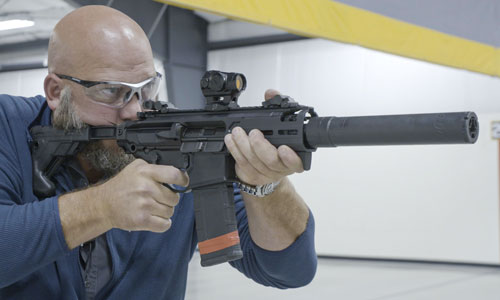 The SLX series is a performance-based suppressor designed for use with supersonic ammunition and ideal for users focused on flash reduction and lower toxic fumes. The SLH series of rifle suppressors features an internal multi flow path with a focus on sound reduction, while also reducing up to 50% of the toxic fumes venting through the ejection port.
Available in the following calibers and configurations:
CALIBERS: 300BLK, 7.62mm, 5.56mm
FINISH: High Temp Cerakote
CORE MATERIALS: Inconel, Titanium
MOUNTS: Direct Thread, Quick Disconnect
LEARN MORE ABOUT SIG SAUER SUPPRESSORS
SIERRA3BDX Riflescopes
The SIERRA3BDX riflescope provides the hunter with an illuminated auto-holdover dot on targets when coupled with a BDX capable KILO rangefinder and is incredibly simple to use. Range a target, put the holdover dot on target, pull the trigger, impact. SIG SAUER's BDX, just CONNECT THE DOT.
LEARN MORE ABOUT SIERRA3BDX RIFLESCOPES

FIREARMS • AMMUNITION • ELECTRO-OPTICS • SUPPRESSORS • AIRGUNS • TRAINING