FREE STANDARD GROUND SHIPPING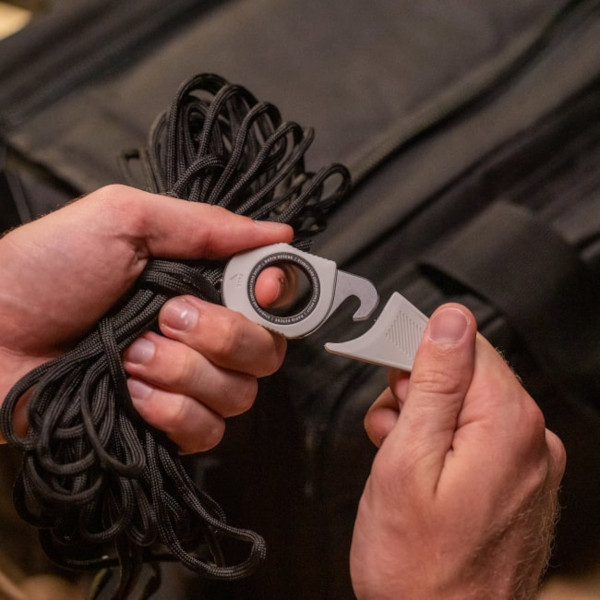 NEW! RAPID RESCUE MULTI-TOOL
FEATURING A SEATBELT/CORD CUTTER AND GLASS BREAKER
Stored on a keychain or lanyard loop, Rapid is quickly and easily deployed and flies under the radar when not in use. The design of the handgrip intuitively guides your fingers into the optimal position when deployed, providing a secure grip to get to work.
Rapid is quick to deploy from the sheath with a simple tug and is easily controlled with one finger through the index finger hole.
Made with a full tang tool design, aluminum pull-ring and textured GRN grip and sheath.
Available in Cement, Black, and Midnight Blue.
PARASHEARS
FEATURING SOG'S COMPOUND LEVERAGE
A focused multi-tool designed specifically for first responders, ParaShears come complete with a mission-specific toolset that features 11 components, including shears, strap cutter, glass breaker, oxygen wrench and tweezers.
Leveraging SOG's proprietary Compound Leverage technology, ParaShears are able to cut through material easier and quicker than equivalent shears. Capable and reliable, the ParaShears are a multi-tool designed for rapid, precise work under the most stressful conditions in medical applications.
ParaShears – Black
$79.95
ParaShears – Red
$79.95
TRIDENT AT
A KNIFE DESIGNED FOR FIRST RESPONDERS
A folding knife designed for professional users, Trident AT features rapid assisted opening with SOG's innovative ambidextrous AT-XR Lock, as well as an integrated line cutter and glass breaker.
Trident AT is easy to carry, with a highly functional 3.75″ cryogenically heat-treated D2 stainless steel blade. Its powerful AT-XR locking mechanism also features built-in blade locking safety and a spine-mounted safety system.
SHOP NOW PROFESSIONAL OUTDOOR DAILY

Lifetime Warranty

Free Shipping
Mission Ready. Purpose Built

Engraving
​
Free shipping limited to the continental US
Limited to stock on hand
Online exclusive

Mission-centric solutions designed to enhance capability, no matter the situation. Drawn from studying user insights, our systems confidently embrace adversity, turn obstacles into opportunities and push us in our relentless pursuit of greater potential.
SOG Knives and Tools
5250 Frye Rd Irving, TX 75061