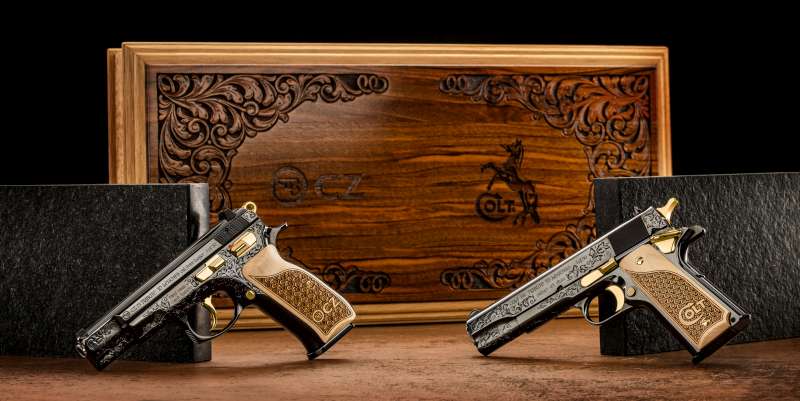 Limited Edition of Legendary Handguns Commemorates the First Anniversary of the Colt-CZ Merger
A limited edition set of two hand-engraved Colt 1911 and CZ 75 handguns called Tribute to Legends commemorates last year's merger of two renowned small arms manufacturers – Colt and Ceska zbrojovka (CZ). Decoration of the pistols was undertaken by the internationally respected artistic gun engraver René Ondra who transforms serial products into high value works of art. The first of a total of 50 sets will be auctioned off on November 27, 2022, in Prague's Kodl Gallery and the proceedings will be donated to the Army Solidarity Fund, the Police and Firefighter Foundation, and the fundraising bank account of the Embassy of Ukraine in the Czech Republic to support the Ukrainian army.
"We decided to name this edition "Tribute to Legends" because both handguns and their manufacturers are among the best in their field, with a rich history and generations of satisfied users. We want to continue this set course and to establish Colt CZ Group as the recognized undisputed leader of small arms industry. I am glad that the auction of one of these sets will support our soldiers, policemen, firefighters, and their families, as well as the Ukrainian Army," said Jan Drahota, CEO and Chairman of the Board of Directors of Colt CZ Group.
The idea to create this unique edition was born from close cooperation between the two "sisters," Colt and CZ. An iconic model was chosen to represent each brand: the American Colt 1911 pistol and the Czech CZ 75. Both pistols are decorated with engravings inspired by the 19th century practice of ornamentation in North America, especially of Colt revolvers, which are famous in this respect and sought after by collectors.