New Classes Added to Our Schedule
That's right! We have added brand new classes to our schedule. Check out the highlights below or head over to our Courses Page for more.
Defensive Pistol Skill Builder: This course focuses on manipulations, accuracy, and speed and builds on the pistol fundamentals that were introduced during the 100 series of courses.
REGISTER NOW: DEFENSIVE PISTOL SKILL BUILDER
Shoot Sooner Series: World class competitive shooters all have one thing in common: they never stop refining their skills. The Shooting Sooner Series is specifically designed to enhance students' ability to engage targets rapidly and accurately by focusing on increasing efficiencies to be successful within the sport of USPSA.
REGISTER NOW: STATIC SHOOTING SKILLS I REGISTER NOW: STATIC SHOOTING SKILLS II
Revolver 102.5 Skill Builder: Whether you've recently purchased a revolver, or it has been a while since you have had any training, our Revolver Skill Builder is fun, friendly and fast-paced way to learn and refine your revolver fundamentals
REGISTER NOW: REVOLVER 102.5 SKILL BUILDER
Introduction to Competition Shooting Seminar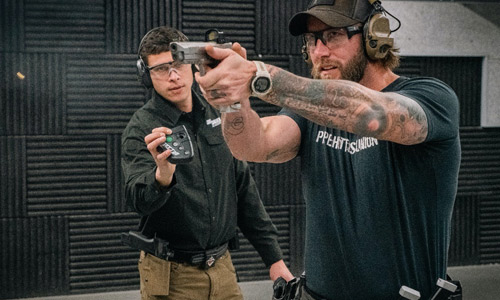 Have you ever wanted to sign up for a practical shooting competition, but you just don't know where to start? We have you covered! This all-new seminar is designed to give you a comprehensive overview of the several types of practical shooting sports, the gear you will need to attend your first match, scoring, and more. We will set you up for success and give you realistic goals for your first match.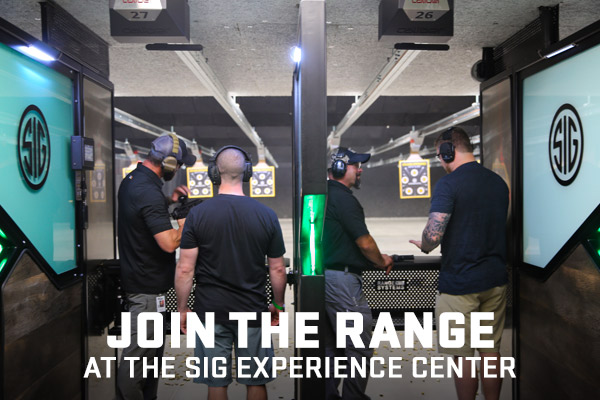 The SIG SAUER Academy Shooting Center is a state-of-the-art, public indoor shooting range. Featuring the latest in live-fire training aids, the SIG SAUER Academy Shooting Center is one of the most advanced indoor shooting facilities in the country. Open to the public, customers can train with their personal firearms or test the latest SIG firearms, ammunition, and optics.
With a membership to the public range, you can improve your skills on your own time. Use your own firearm or rent a SIG. Choose from four different membership types: Standard, Front Line, Family or Elite.
Learn more about range membership benefits below.
PURCHASE A RANGE MEMBERSHIP NOW
Range Membership Benefit: Academy Range Access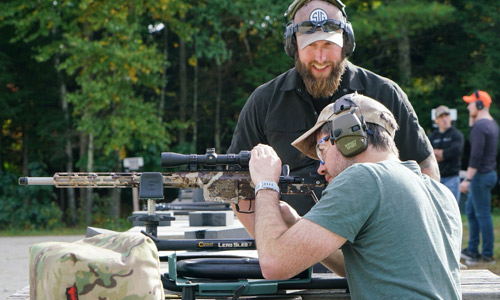 Beginning March 10th, SEC Range Members will have the opportunity to sign up for a 2-hour block of range time on our rifle range! We have specific dates set aside as an exclusive membership perk. Members must bring their own rifle and are allowed to bring a guest.
St. Patrick's Day Deals
Wear green on St. Patrick's Day and get 10% off your purchase,* half off your range fees and free entry to our Pot-O-Gold Shoot.
*Excludes firearm purchases
St. Patrick's Day Deals running the week of March 13-19
★ Spend $1,000 on firearms/suppressors, get 20% off ammo
★ Spend $1,400 on firearms/suppressors, get 20% off ammo & 10% off optics
★ Spend $1,800 on firearms/suppressors, get 20% off ammo & optics
★ Spend $2,000 or more on firearms/suppressors, get 20% off ammo, optic & storage
Pot-O-Gold Shoot
March 13-26 try your luck with our Pot-O-Gold Shoot! Each participant will receive 5 rounds of ammunition and try their luck at hitting 5 gold coins with the brand NEW P320 Spectre Comp. Coins will be placed randomly on the back of their Pot-O-Luck target. Targets will be set to 7 yards. Win an hour of range time for each coin hit! No pre-registration required.
NEW PRODUCT: MCX-SPEAR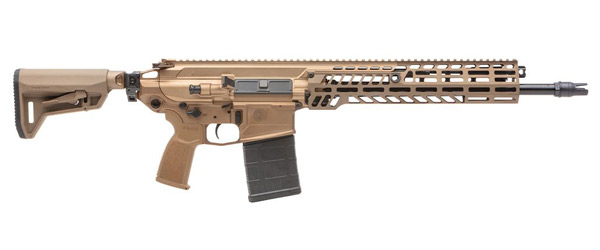 Introducing the MCX-SPEAR, the civilian version of the U.S. Army's new XM7 rifle. The next generation has arrived.
Range Members: Try Before You Buy at the SEC
Try the MCX Spear 13″ in 7.62×51 through March 10 and get a discounted box of 7.62×51 ammo!
LEARN MORE ABOUT THE MCX-SPEAR

233 Exeter Road Epping, NH 03042
603-610-3400
sigsaueracademy.com